Our restaurant Le Cabanon is open every day.
Residents and visitors alike can enjoy a delicious bistronomic meal with a land-sea theme in a natural setting.
Simple and elegant plates, seasonal products cooked with character, panoramic view on the pine forest: it's a moment out of time guaranteed, day and night.
Our passionate team will welcome you every day for lunch and dinner services, as well as for our incredible weekend brunch.
Reservation recommended.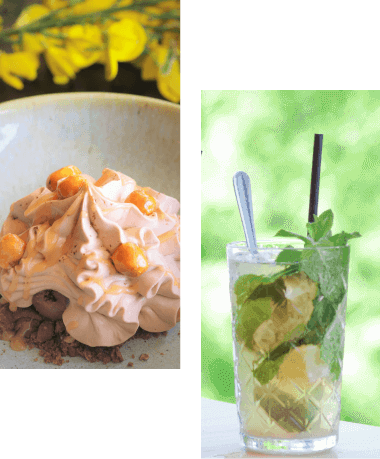 Open every day
Breakfast : 7am-10:30am
Lunch between 12 and 2 pm
Dinner between 7 and 10 pm
Brunch every Sunday, 2 courses 11:30am or 1:30pm
Reservation at 05 56 03 25 09
Le Restaurant du Domaine - The Menu
The plate of charcuterie of the Basque Country

16 €

Grilled Halloumi, dried oregano, Zaatar spices, toasted bread

14 €

Croque-Monsieur, Ossau-Iraty and ham with truffles

14 €

Bell pepper and goat cheese meze, cereal breadsticks

14 €

Beet hummus, pickles and Nordic bread

14 €
A starter, a main course and a dessert, prepared each day by our chef
Starter + main course + dessert

35 €

Starter + main course or Main course + dessert

29 €
The 6 Special Oysters of the Parc de l'Impératrice N°4 - Joël Dupuch

16 €

Burrata, black pesto, young seasonal sprouts and granola

18 €

Fish tartar from the fish market, Daikon radish, pomegranate, grass shoots and Kalamansi cream

19 €

Home-made semi-cooked foie gras, seasonal chutney

20 €
Lentil and fregola dahl, spice mix

22 €

Roasted fish with herbs, Persian rice

32 €

Pluma of Iberian pig, seasonal vegetables, Chimichurri sauce

32 €

Smoked beef rib with the scent of Cap Ferret, Bordelaise sauce and its accompaniment (2 pers.)

85 €

Additional accompaniment

6 €

Potato mousseline, Persian rice, Lentil Dahl, Mesclun
Plate of mature cheeses selected by our chef

12 €

(Vanilla ice cream, poached pear in syrup, chocolate sauce, flaked almonds)

Dunes Blanches Chez Pascal

11 €

Feuilletine Chocolate

11 €

(Chocolate Entremet, chocolate ice cream)

Irish coffee / Jamaican coffee / French coffee

12 €
Two scoops of ice cream

5 €

(Vanilla, chocolate, coffee, raspberry, lime, strawberry)
Butcher's Piece or Child Fish - Two scoops of ice - Water syrup

15 €