Welcome to the Cap Ferret peninsula, one of the most popular destinations on the Atlantic coast.
You have surely already seen this peninsula of wooded dunes, its incredible natural point of fine sand and tall maritime pines that separates the Bay of Arcachon from the Atlantic Ocean.
On the one hand, the calm of the beaches of the Basin, its fishing villages, the charm of a preserved traditional habitat.
On the other, the immensity and purity of the invigorating ocean beaches.
Everywhere, nature is omnipresent, like an essential reminder of the present moment.
Explore these preserved spaces and explore all the corners of this peninsula with its renowned microclimate.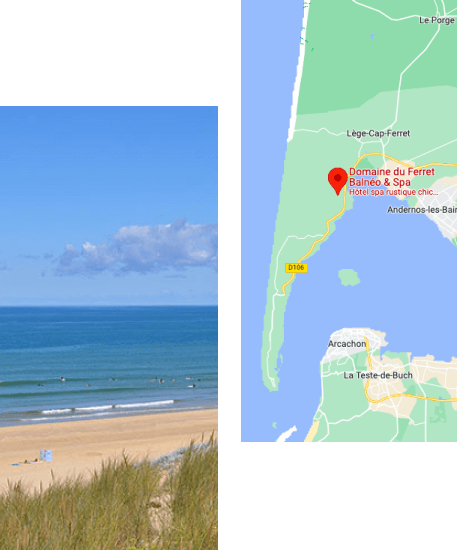 The peninsula offers, on its 18 km, multiple animations and leisure activities linked to the exploration of its natural reserves.
Numerous activities are offered in the village and in the immediate vicinity (tree climbing, golf, tennis courts, horseback riding, water sports, skate park, children's clubs...).
Summer destination par excellence, you will also find many shops to stock up on souvenirs!
On foot, by bike, by car and even by boat: you choose your way to discover this paradise.
Possibility to include in the stay the tickets for boat visits (with the union of the boatmen of arcachon), in particular tour of the island to the birds and crossings for Arcachon/Dune of Pilat.
Discover the region by bike in a fun way! Stroll along the many bike paths throughout the peninsula, the best way to immerse yourself in the surrounding nature. Our ideal location at the crossroads of several routes allows you to set off on an adventure in just a few minutes.
You want to rent bikes? Our partner Cycloland organizes the transportation of your bikes directly to the Domaine! Ask at the reception desk.
From our estate, access the surrounding beaches on foot, or by bike thanks to the many bicycle paths. You can also get there by car.
The closest beach to the Domaine is the one of Claouey, on the basin side (accessible by foot in 15min, by bike in 5min). Be careful, the tide impacts considerably its access. Consult here the tide schedules to adapt your activities.
To breathe the fresh air on the ocean side, discover :
The Truc Vert Beach (13min drive)
The Grand Crohot Beach (15min drive)
Discover the bird island or the Arguin bank by boat
Enjoy a plate of oysters on the terrace of an oyster shack
Sail on the basin
Stroll on the peninsula
Collect shells on the beaches of Cap Ferret (basin side) - at low tide
Discover the Prés Salés nature reserve - at low tide
Go to the beach of the Mimbeau bank (perfect for observing the Dune du Pilat)
And of course, our concierge service is at your disposal to accompany you throughout your experience.
If you can't find the answer to your question here, we will be happy to answer you by e-mail or by phone.